August is dedicated to The Immaculate Heart of Virgin Mary. Devotion to the Immaculate Heart of Mary means to recall the emotions of joy and sadness that Mary experienced in her own life. Teaching our children about Mother Mary will lead them to know her and love her more. She is a true example for all mothers and children to live their life as per the will of God.
Here are the some activities that we have done and you could try too.
To live our Faith:
During the morning prayer we talked about the symbols associated with the Immaculate Heart of Mary. We spoke about the different emotions Mamma Mary went through in her life and still goes through when we as her children do something good or bad. You could also decide on a specific prayer to pray together as a family. We have decided to recite the 'Memorare' as a family 7 times (sorrows of Mary) everyday for this month. My kids know it, you could try teaching your children too.
Here's an image from the Catholic Link that explains the symbols of Mary's Immaculate Heart.
Spinning Wheel:
This can be a parent-child activity (refer to pic), in which the child helps the parent/s in making of the spinning wheel as they do it they can learn more about every symbol of The Immaculate Heart of Mary.
The significance of every symbol:
The Heart: Symbol of her Maternal love (Mother's Love).
The Sword: It symbolises Mary's Sorrows.
The Fire: Her heart that burns with love for Jesus and us.
The Roses: They represent her purity.
How to learn and use : Ask the child to spin it and when the inner circle stops spinning note where the hearts pointed edge stops and ask the child what symbol is that and what it means. You can help the child during the learning process, later it can be used for recap (question time or game).
Note: You can do the puzzle as well (to know more check the post on Sacred Heart of Jesus)
Immaculate Heart Meal:
Food is an important aspect of our everyday life. We can use it to teach our kids about our beautiful faith. One way of doing so would be to plan our meals around the theme of our liturgical feasts either by incorporating flavours or colours symbolic of the feasts. For instance, we started our day with special heart pancakes. I have put the pics below. It was nothing extra you would have to do except the shape of the heart. I used whipping cream on top to depict the flowers and oranges for the flame they had a great time eating it too.
Desert Preparation:
Ice-cream and Jelly: We made a heart shape jelly (Raspberry flavour), placed it in the plate, surrounded it with vanilla ice-cream, used tutti frutti to make the fire flame, used puffed rice to make the white roses and used a knife/ toothpick to represent the sword and used orange flavour and colour on the ice-cream to show the Divine light. (If you do not have puffed rice, you can use cashew nuts or any white sprinkles).
This is another jelly, with 7 cloves symbolising the 7 Sorrows of Mary, raisins for the flame and puffed rice for flowers.
Immaculate Heart Fruit Platter:
Last but not the least we also made an Immaculate Heart fruit platter. I had made something like this for the feast of the Sacred Heart of Jesus. Just that then I had used strawberries and this time I used watermelon. I used mini marshmallows for white flowers and oranges for flame.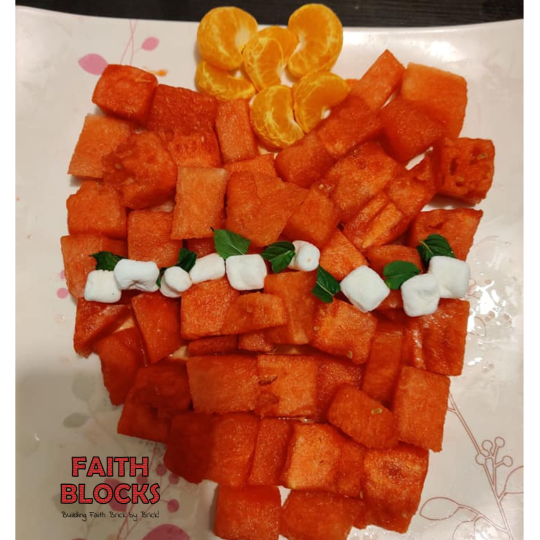 This is another fruit platter with pomegranate for the heart, oranges for the flame and white flowers. You can modify this and be creative in your own ways.
Immaculate Heart of Mary Craft:
We also spend some time colouring and we also made a craft. Usually if I have time constraints I don't do a craft but since it was a monthly devotion and we don't have an image of the Immaculate Heart of Mary to display we did the craft. This craft maybe difficult with little kids but if you have older kids it would be a great way to engage them.
Here we tried using tissue papers to make the flower on the heart.
It's not important for you to do all of this. Just take whichever you think works for you and your family. As parents it is our responsibility to teach and evangelize our kids and this is our effort to offer you ideas to make it simple and relatable. Monthly devotions is another wonderful way to bring our kids closer to our faith. Would be wonderful to see the things you do to teach your kids about The Immaculate Heart of Mary.
Thanks to contributions from Anisha Matthias & Rosmin Francis Stanny.