On Jan. 21, the Church honours the child saint, St. Agnes, who suffered death for her love and dedication to Christ.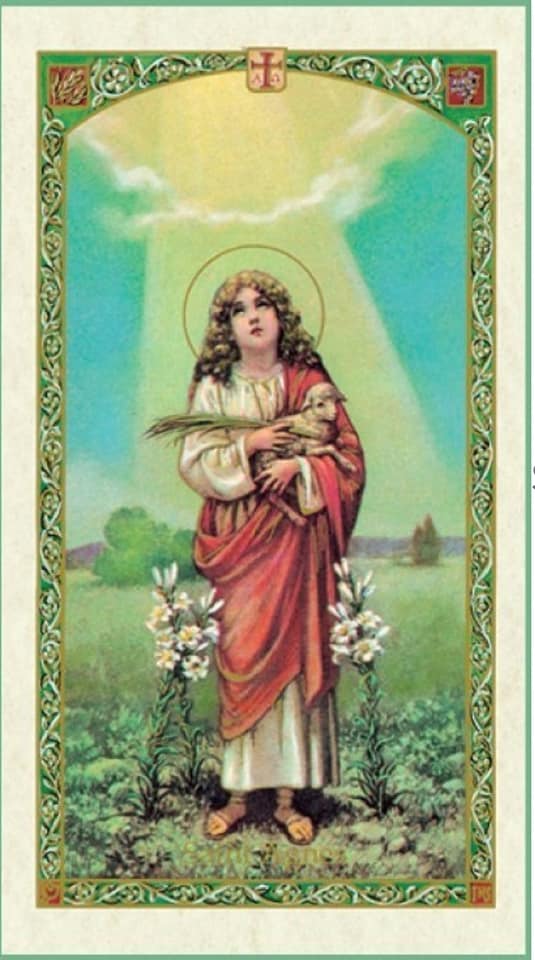 Officially the season of Christmas is over and we are back in ordinary time. Now we celebrate the feast of a beautiful and young martyr from Rome, St. Agnes who is an inspiration because of her love for the Lord at such a young age.
According to tradition, she was born into a Christian family, and early on vowed her life to Jesus alone. Saint Agnes was beautiful and rich. She had many admirers and whenever a man wished to marry Agnes, she would always say, "Jesus Christ is my only Spouse."
After refusing to renounce her faith, she was martyred at the age of 13, during the persecution of the Christians by the Roman emperor Diocletian. At first, Agnes was tied to a stake, but either the wood would not burn or the flames parted away from her. An officer finally beheaded her. She is one of seven women martyrs mentioned in the Canon of the Mass.
She is often depicted carrying a lamb in her arms, as her name resembles the Latin word for lamb, agnus. St. Augustine writes, "Agnes means 'lamb' in Latin, but in Greek it denotes 'the pure one'.
On the feast day of the young martyr, the Pope traditionally blesses lambs, whose wool will be used to make the white pallium worn by archbishops. (A palium is a collar-like vestment that is the symbol of the office of an archbishop. It is ornamented with six crosses and is symbolic of the unity of the archbishop with the Pope.)
She is the patroness of purity, chastity, gardeners, girls, engaged couples, and virgins.
So lets look at some of the ways we can celebrate the inspiring saint with our kids:
1. Jelly hearts and flowers:
Make a simple red jelly in heart or flower shaped moulds to symbolize the love and sacrifice of St. Agnes. If you do not have moulds, just pour the jelly into any dish and use a knife to cut out your shapes, when the jelly sets.
2. St. Agnes protected from flames:
Check out the pictures below to try this out!
3. Activity sheet:
No time to prepare? Just get this simple lamb craft and quote of St Agnes as a FREE PDF printable
here
4. Feasting with St. Agnes:
5. Story of St. Agnes :
Read or tell the story of St. Agnes. The story is also available on
Youtube
, but please use your discretion because her story ends in martyrdom.


6. Craft:
From the 6th Century, St. Agnes, has been depicted with a lamb. The reason for it is in Latin her name 'Agnus' means a lamb. So for her feast some sheep crafts is the best way for kids to remember how to recognize her. We did some finger-painting which was fun for kids.
We hope you celebrate the feast of St. Agnes on 21st Jan. Do let us know how you celebrated the feast.
Thanks to contributions from Rosmin Francis Stanny and Sweetha Mary Rejy.